TPI Golf Services (Titleist Performance Institute)
The Titleist Performance Institute (TPI) is the leader in golf-specific health and fitness information and research from the world's leading experts in the game.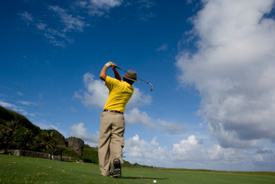 A TPI assessment consists of a 16 part screening that will identify physical limitations which prevent golfers from reaching their potential while also predisposing them to injury.
It is the same screening that TPI uses on PGA, LPGA and other tour pros. The results of the TPI screening are then used to create a specific web-based exercise program designed and monitored by your TPI certified therapist. This information can then be passed on to your golf professional to help them gain a better understanding of your physical abilities. It is often these physical limitations that are preventing you from improving your power, accuracy and consistency. In addition to providing a screening, your TPI Certified Chiropractor is trained in identifying and treating golf-specific injuries.
TPI Screening (1 hour) and Development of a golf specific Exercise Program: $175
Follow-up appointments: $55